Beautiful feet
Our feet walk countless kilometers, a tiresome task.
Especially women's feet bear the burden of uncomfortable and/or high-heeled shoes.
Foot care can prevent problems and minimize or eliminate preexisting ones.
Our mobility is dependent on healthy feet and furthermore:

«Beautiful feet aren't unimportant.»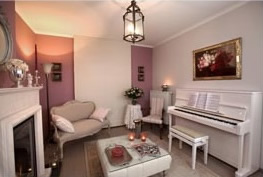 La vie est belle
There fore we offer services in:
Removal of callus and corn,
Nail and cuticles care,
Treatment and release of ingrown nails,
Toenail fungus treatment and advice,
Dry cracking heel treatment
Accessories, e.g. cushions to reduce pain,
Referral to a doctor or a specialist with severe problems,
Treatment of diabetic and rheumatic feet,
Relaxing foot massage.
Contact
Sheilla Pinoy
La Vie est Belle
Wenduinesteenweg 52
8421 De Haan
Tel. 059 43 38 85
Larger map